You Can Find an Affordable Brand-New SUV With Tons of Premium Features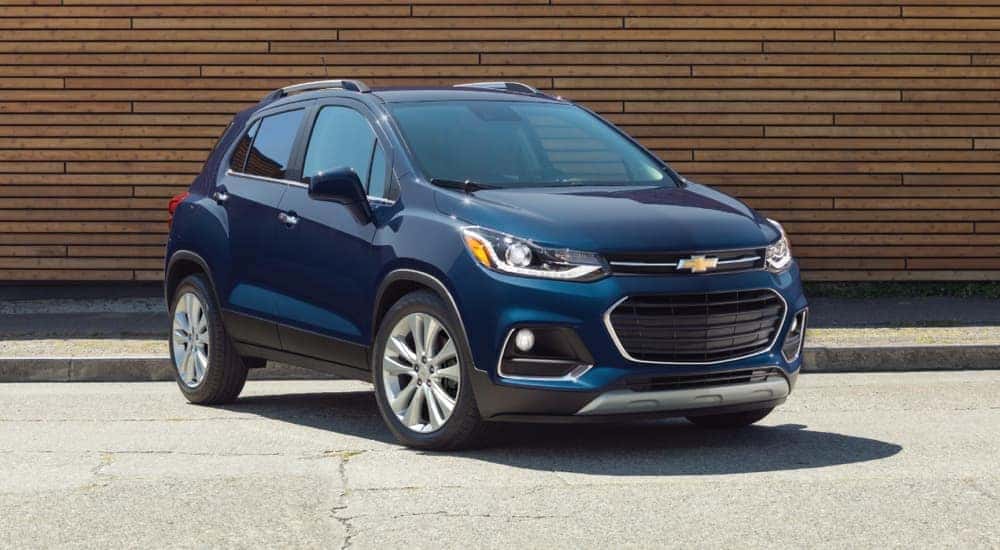 Are you hunting for an affordable SUV that can still get the job done where it counts? Don't go crazy driving all over town and test-driving a bunch of different models that will either give you a good price with no exciting features or all the features and a high price. Instead, stop by Guntersville Chevrolet, the Chevy dealer near you. Hit the 'easy' button and check out the adorable subcompact Chevy Trax, the sporty Trailblazer, and the family-friendly Equinox. These three SUVs offer some of the lowest base model prices without sacrificing the equipment and features buyers want.
The Trax is tailor-made for first-time buyers and shoppers on a tight budget. With a starting MSRP of barely more than $20,000, it's easy to keep your payments low while still enjoying what you drive. As for affordability, it's not all about the selling price: you want a vehicle with a low cost of ownership, so factors like reliability and fuel economy matter. Chevy is known for manufacturing fuel-sipping vehicles with high-quality ratings.
You might believe that being on a tight budget means ending up with a stripped-down base model with minimal comfort and convenience features. Not so with the Chevy Trax, Trailblazer, and Equinox SUVs. All three offer a nicely equipped base model with a low MSRP. Also, buying a new Chevy means you'll have the coverage of a factory warranty should you need a repair. Chevy's connected services solutions also help you access great perks like 24/7 roadside assistance.
All About the Clever Chevy Trax
If you're a first-time buyer, a long-range commuter, or someone who appreciates a great deal, the Chevy Trax is a must-see! This little ute offers a low starting price for budget shoppers, but its sharp exterior styling, raised seating, and generous maximum 48.4 cu.ft. cargo area make it feel much larger. For drivers worried about winter weather and the wet, slippery road conditions that come with it, Chevy offers the Trax in all-wheel drive.
Prepare to pass more gas stations than ever when you're traveling in your Chevy Trax because this little SUV gets 24 MPG in the city and 32 MPG on the highway. You'll appreciate that Chevy offers the Trax in nine different exterior colors, including Crimson Metallic, a rich, deep red, as well as a simple two-trim lineup that eliminates confusion and allows you to select from multiple equipment and appearance packages. You won't be stuck driving the same Trax as everyone else, so have fun going online and playing with Chevy's build tool to configure your SUV exactly the way you want.
All Trax trims are powered by a turbocharged four-cylinder engine that provides plenty of power for swift highway acceleration without sacrificing fuel economy. In the city, you'll appreciate the Trax's smaller dimensions and agile turning radius. Upscale features like power seats, a leather-wrapped steering wheel, and keyless open and start are also available on the versatile Trax.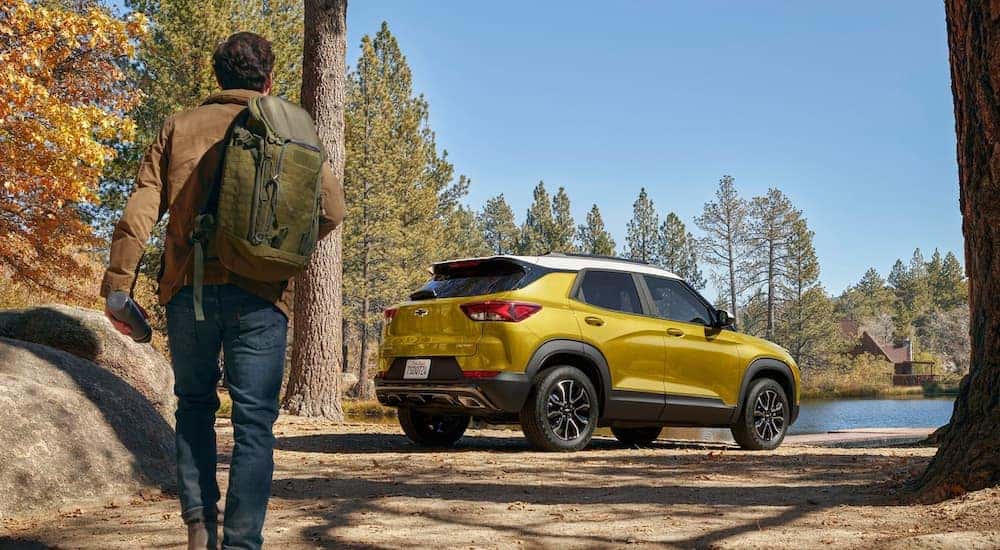 The Chevy TrailBlazer's Fan-Favorite Features
The first thing you'll notice about the subcompact Chevy Trailblazer is its sharp, angled exterior lines. After that, it's all about the two-tone roof. Together, these features help the Trailblazer stand out in a sea of similar, vanilla-styled SUVs. You'll be amazed at how big the cabin feels for front and rear passengers, and the standard three-cylinder 137-hp motor delivers plenty of acceleration and power when needed.
For buyers itching for a little more performance, a larger optional engine nets a hefty 155 hp. All-wheel drive is also available, making the Trailblazer a great four-season option. If you're planning some serious time on the slopes this winter, you'll appreciate the Trailblazer's configurable seating. The second row folds flat and flush with the cargo area, and the front passenger seat can also be folded flat to accommodate longer items like skis.
Enjoy a palette of youthful colors that includes a neon Nitro Yellow Metallic, as well as plenty of standard driver-assist safety and convenience features, including available Adaptive Cruise Control, which allows you to automate speed changes on the highway without tapping the brake. Speaking of, prepare to enjoy 33 MPG of fuel economy on the highway, which means you'll be the driver on road trips with your buddies.
As for connectivity, the Trailblazer is designed to keep you and your smartphone close. Enjoy standard wireless Apple CarPlay and Android Auto, as well as a 7.0-inch infotainment touchscreen on the base LS model. It runs on the Chevrolet Infotainment 3 system for quick, responsive interaction with apps, maps, and entertainment content. It's the perfect array of features for drivers who love a little technology without having to pay extra to get it.
Family Convenience and Comfort in the Equinox
Buyers with kiddos should flock to the versatile Equinox for its low starting MSRP and plethora of in-cabin features designed to help busy parents tackle parenting easily. Your daily carpool becomes much more enjoyable when the kids have room to stretch out. Add an expansive list of standard safety features, and the Equinox will tick all your must-have boxes without busting your budget.
There's a reason the Equinox is one of the most popular midsize SUVs in the category. It's not easy to offer both value pricing and a well-equipped base model, but Chevy figured it out with the affordable Equinox LS. Enjoy standard LED headlights, wireless smartphone connectivity, and a six-speaker audio system. Also included in the low base price is a 7.0-inch infotainment touchscreen with connected services capability, a free three-month trial to SiriusXM satellite radio, and a 60/40 split rear seat that makes accommodating your kid's sports gear a breeze.
The Equinox LS also has both keyless entry and keyless start systems, as well as a chrome-trimmed shift lever and plenty of USB charging ports for the whole family. As for safety, Chevy Safety Assist is standard. It includes six different driver-assist safety technologies, including Forward Collision Alert, which sends an audible alert if the onboard sensors detect the possibility of a crash. This feature, along with several others, offers extra peace of mind while you're transporting precious cargo.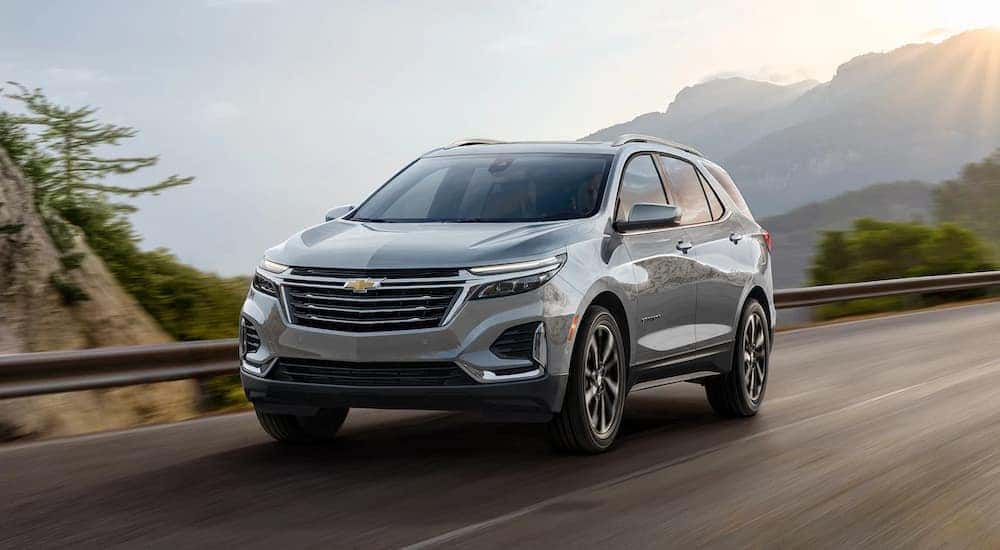 Finding the Ideal Chevy for Your Budget
These days, we all need to find ways to save money and keep our expenses low. Finding a vehicle that offers reliability, fuel economy, and comfortable accommodations without breaking the bank is easily within your reach when you shop for a Chevy. Millions of buyers have discovered Chevy's affordable SUV lineup, which includes models in just about every size category that offer a low starting MSRP without sacrificing capability and creature comforts.
Get to know the entire Chevy SUV lineup and consider how a new Chevy vehicle can help you tackle all your errands, carpools, and road trips affordably and practically. Every dollar counts, which is why these SUVs are designed to provide low ownership costs. With a three-year/36,000-mile bumper-to-bumper warranty, any unexpected mechanical issues are covered. Simply bring your Chevy to our state-of-the-art service center, and we'll honor all your warranty repairs.
Don't settle for an unreliable used car found on some random classified site: treat yourself to a brand-new Chevy for about the same monthly payment. From there, you'll enjoy years of worry-free driving and some of the best fuel economy and safety ratings in the industry. The Chevy bowtie brand stands for value. It's time to discover the diverse Chevy SUV lineup and find the perfect SUV for your lifestyle and budget here at Guntersville Chevrolet.