Chevrolet Recall Information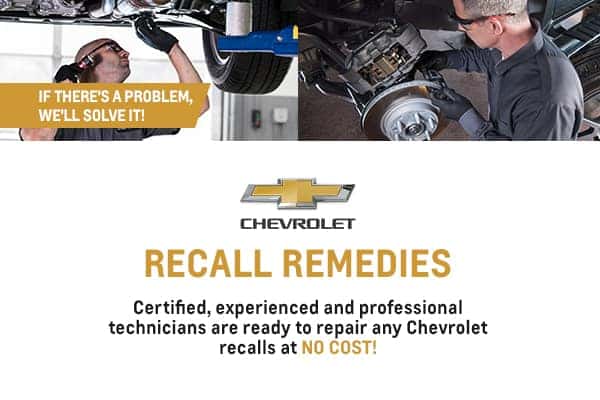 ---
At Guntersville Chevrolet, we can help Birmingham drivers and beyond learn more information about any Chevrolet recalls on their vehicles. Guntersville drivers rely on their Chevys every day for work, errands, and play. And at Guntersville Chevrolet, we have you covered with up-to-date information on the latest Chevy recalls. Read on more below to learn what a recall is, how they work, and how we can help.
What is a Recall?
Automakers test and test and test their vehicles before they leave the factory to ensure that every piece and component is working correctly. But sometimes, there's a specific issue with a vehicle or part that's discovered after the vehicle's release. Automakers, with the aid of the National Highway Traffic Safety Administration (NHTSA), are always working to identify these issues to help keep Albertville drivers safe.
A recall is issued if a vehicle or its components are found not to meet minimum safety standards or are found to pose unreasonable safety risks. Huntsville drivers can rest easy because these are problems placed on the manufacturer. And they come at no cost to Chevy drivers in Guntersville. Chevy is responsible for providing recall support for its customers with a repair, refund, or replacement for the recalled component(s).
How Do I Know if My Chevrolet Has a Recall?
You'll receive official notice of any Chevrolet recall that affects your vehicle via first-class mail, but Guntersville Chevrolet always recommends that drivers check in with their make and model online to see if there have been any recalls announced. You can also look up recall information online with the NHTSA or with your vehicle's manufacturer, and you may be asked to enter your VIN (Vehicle Identification Number) online when looking up recall information. Drivers can find their VINs on the lower left driver-side corner of their vehicle's windshield, on the sticker in the driver-side door jamb, or on their vehicle's registration card.
What Do I Do If My Chevy Has a Recall?
Chevrolet (and every manufacturer) must provide recall services at no cost whatsoever to affected customers. However, only authorized dealerships like Guntersville Chevrolet can offer these services, as we work directly with Chevrolet to ensure that your vehicle is taken care of correctly. All of these services are complimentary, so it's best to schedule service today with Guntersville Chevrolet so that your Chevy's recall can be corrected at no cost to you! Guntersville drivers can always count on the Guntersville Chevrolet service department to get the job done quickly and efficiently.
Contact Guntersville Chevrolet For Great Service & Information
At Guntersville Chevrolet, we understand how sudden car problems can impact our customers' daily lives. That's why we offer quick, professional help no matter the service or task. If you've found a recall on your vehicle, contact us today to get complimentary, no-cost service to remedy the problem. We also offer a variety of services and offerings like:
No matter the service task, the team at Guntersville Chevrolet has our customers covered, ensuring you'll be back on Birmingham streets in no time!
Mon - Fri

8:30 AM - 7:00 PM




Sat

8:30 AM - 6:00 PM




Sun

Closed
Mon - Fri

7:30 AM - 5:00 PM




Sat

8:00 AM - 2:00 PM




Sun

Closed
Mon - Fri

7:30 AM - 5:00 PM




Sat

8:00 AM - 2:00 PM




Sun

Closed
Mon - Fri

7:30 AM - 5:00 PM




Sat

8:00 AM - 2:00 PM




Sun

Closed