Five of Our Favorite Used GMC Vehicles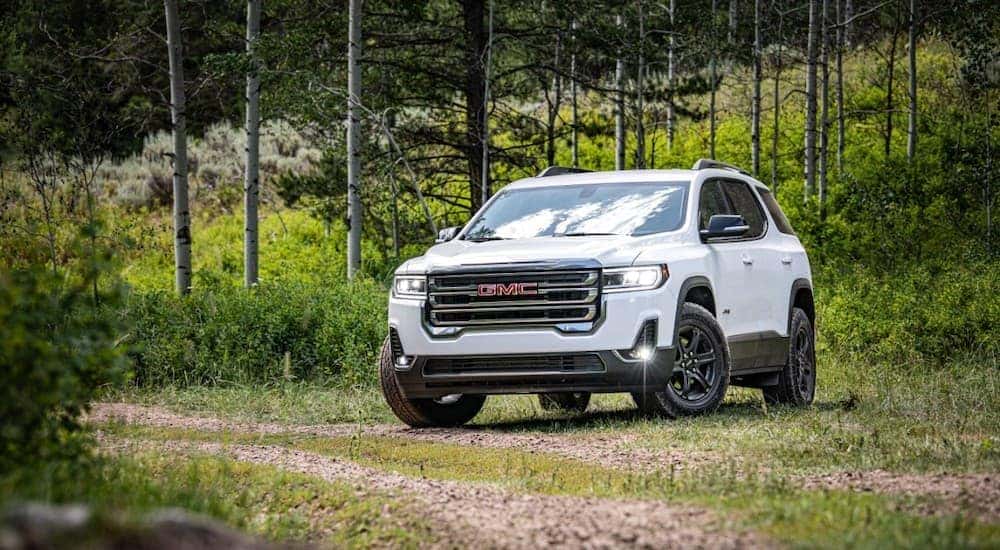 Some people love buying new things. Like a toddler at a birthday party, they like the excitement of opening a brand new box. But after the ribbons are off and the wrapping paper has been shredded, they are holding another toy, just like the ones they've already been playing with. This is why you always find a better value when you buy something used. You are just paying extra for the passing thrill of being their first. This is why, if you are looking for a great value on your next SUV or truck, it makes sense to head over to Guntersville Chevrolet, your premier used GMC dealer, located in Guntersville, Alabama.
At Guntersville Chevrolet, we carry a vast inventory of used vehicles, including our favorite used GMC models. As a full-service Chevy dealership, we are constantly buying and selling used models. As a result, our inventory is always rotating, meaning that you are sure to find the used GMC model that you are looking for. With their attention to detail and earned reputation for safety and dependability, there is nothing quite like a used GMC SUV or truck. Let's take a look at five of our favorite used models.
The 2020 GMC Acadia AT4
The Acadia is GMC's three-row, midsize SUV, providing seating for up to 7 passengers. This gives you plenty of room, a benefit for drivers with large families or who love entertaining their circle of friends. The 2020 Acadia was the first model to offer the AT4 off-road trim, allowing you the advantage to take your Acadia out trail running.
To prepare the Acadia AT4 for the trail, GMC equipped it with an active twin-clutch all-wheel drivetrain and all-terrain tires wrapped around 17-inch decimated alloy wheels. The 2020 Acadia AT4 utilizes a standard 3.6-liter V6 gas engine paired with a 9-speed automatic transmission, capable of 310 horsepower at 6,600 rpm and 271 lb-ft of torque at 5,000 rpm. This engine features Active Fuel Management, a GM system that cuts fuel to two of the engine's six cylinders under certain driving conditions to improve fuel economy. As a result, you should expect to get 18 mpg (miles per gallon) in city driving and 25 mpg on the highway in your 2020 Acadia AT4. In addition, this model can tow up to 4,000 lbs, making it ideal if you plan on towing a boat or camper. With the Acadia AT4, you can actually tow your outdoor equipment to a remote location.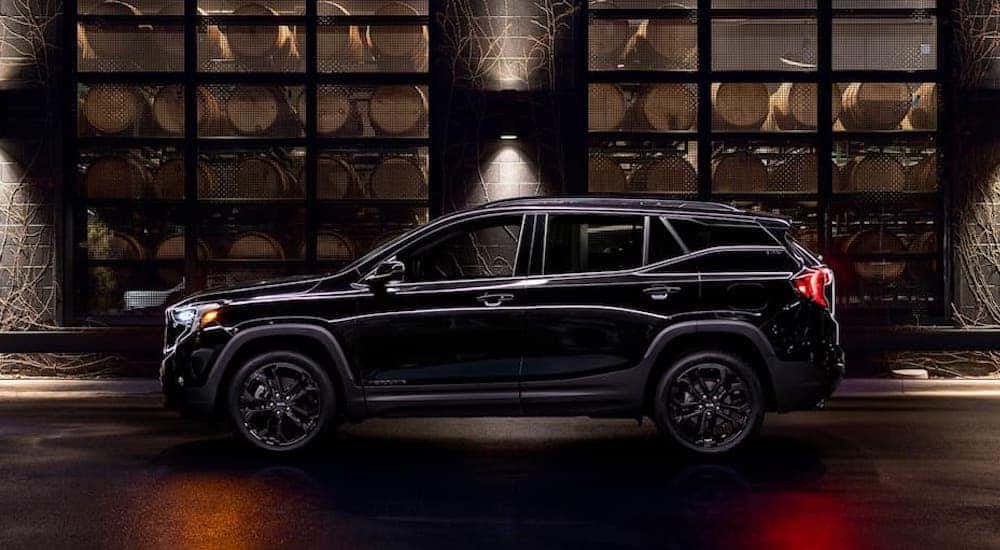 The 2019 GMC Terrain Black Edition
Compact SUVs and crossovers have become one of the most popular model classes on the road today. As a result, the roads have become crowded with so many models that have started to look the same. If you don't look closely at the hood ornament, you would be forgiven for mixing so many of them up. So if you are someone who loves standing out in a crowd, then a 2019 Terrain Black Edition may be the used GMC vehicle for you.
The Black Edition is a special appearance addition offered by GMC on the SLE and SLT trims of the 2019 Terrain. This model adds black accents on the interior and exterior, including a darkened front grille, 19-inch black aluminum-alloy wheels, and special black badging.
Like regular 2019 Terrain SLE and SLT models, you get a choice of three exceptional, fuel-efficient engines. The 1.5-liter turbocharged I-4 gives you 170 horsepower at 5,600 rpm and 203 lb-ft of torque at 2,000-4,000 rpm, while the larger 2.0-liter turbocharged I-4 produces 252 horsepower at 5,500 rpm and 260 lb-ft of torque at 2,500-4,500 rpm. Each comes paired with a 9-speed automatic transmission. The third engine option is a 1.6-liter turbo-diesel I-4 equipped with a 6-speed automatic transmission, capable of 137 horsepower at 3,750 rpm and 240 lb-ft of torque at 2,000 rpm. Whichever engine you choose, you will get exceptional fuel economy, even if you opt for a used model with available all-wheel drive.
The 2021 GMC Canyon Elevation Crew Cab 4X4
Once the set of wheels for contractors and people working a trade, the midsize pickup truck has recently become a vehicle of choice for suburban drivers who love the utility provided by a pickup. Choosing a used 2021 GMC Canyon gives you that utility in a vehicle that is easy to handle, a big plus for folks who are buying their first truck.
GMC introduced the Elevation trim for the 2021 Canyon, offering plenty of creature comforts for family drivers at a more affordable price than the top Denali trim. This includes such key features as an 8-inch touchscreen on the GMC infotainment system, onboard Wi-Fi to keep you and your passengers connected, and a tilting and telescoping steering wheel for greater driver comfort. Choosing a crew cab design increases the amount of rear-seat legroom, making it feasible to carry up to 5 passengers in your Canyon.
The 2021 Canyon Elevation features a standard 3.6-liter V6 gas engine with an 8-speed automatic transmission. This engine will give you 308 horsepower at 6,800 rpm and 275 lb-ft of torque at 4,000 rpm, making the Canyon capable of towing up to 7,000 lbs. Choosing a used model with available four-wheel drive improves the vehicle's traction while still providing solid fuel economy. A 2021 Canyon Elevation with this engine and drivetrain will deliver a respectable 17 mpg in city driving and 24 mpg on the highway.
The 2020 GMC Yukon XL Denali
If you need space and love the best things in life, you should consider a used 2020 GMC Yukon XL Denali. The Yukon XL is a super-sized version of GMC's full-size Yukon SUV with room for up to 9 passengers. In addition, the Yukon XL boosts trunk space from a maximum 94.7 cu.ft., while folding down the two back rows of seats creates an impressive 121.7 cu.ft. As it is, the Yukon XL will give you an impressive 39.3 cu.ft. of cargo space in the trunk, so you can not only carry 9 passengers but also have room for their entire luggage.
Choosing the Denali trim also gives you the ultimate in luxury appointments. This is the top trim offered on GMC models and includes such items as leather interiors, heated and ventilated front seats, hands-free power tailgates, and an adaptive suspension designed to give your passengers the smoothest ride they've ever felt. The 2020 Yukon XL Denali features a standard 6.2-liter V8 engine paired with a 10-speed automatic transmission, good for 420 horsepower at 5,600 rpm and 460 lb-ft of torque at 4,100 rpm.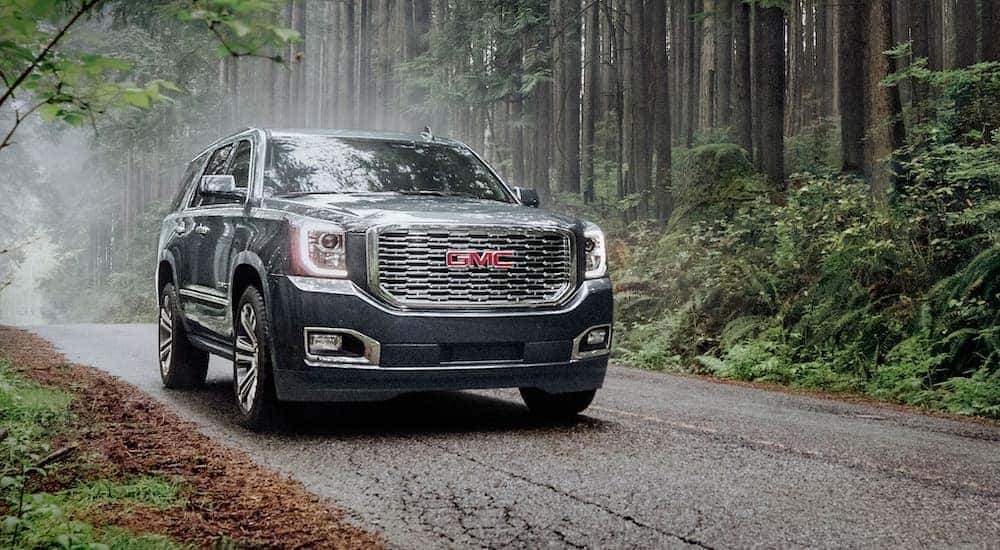 The 2019 GMC Sierra 1500 Regular Cab
On the other side of the spectrum from a Denali trim is the 2019 GMC Sierra 1500 Regular Cab pickup truck. This is a rugged and utilitarian full-size pickup truck designed to give you maximum performance and capability. The 2019 Sierra 1500 is the first year of the fifth generation of this versatile truck. For this generation, GMC gave the truck a roomier cab interior, as well as a longer and lighter platform, improving its capabilities and fuel economy.
Choosing a used 2019 Sierra 1500 with a regular cab, rear-wheel drive, and available 3.0-liter turbo-diesel I-6 will give you the maximum towing capacity in this truck, a very impressive 12,200 lbs. This is because trailer ratings are based on the engine type, cab design, and drivetrain. The turbo-diesel engine on the 2019 Sierra 1500 comes with a 10-speed automatic transmission, providing 277 horsepower at 3,750 rpm and 460 lb-ft of torque at 3,050 rpm. Not only is this incredibly powerful, but also surprisingly fuel-efficient. The 2019 Sierra 1500, with the available turbo-diesel, delivers an estimated 23 mpg in city driving and 30 mpg on the highway. Not only will buying a used truck save you money at the dealership, but it will also save you every time you fill up your fuel tank.
Make Your Next Vehicle a Used GMC
With so many exceptional trucks and SUVs, it is no wonder why GMC is one of the most popular brands. The key is providing trucks and SUVs that are capable, dependable, safe, and stylish. Buying one used gives you the ability to get all of this quality at an incredibly affordable price. If you are in the market for a used truck or SUV, we welcome you to come visit us here at Guntersville Chevrolet and check out our impressive selection of used GMC vehicles. Our knowledgeable sales team will work with you to find the ideal used GMC vehicle with all the features you're looking for at an affordable price.