Five Iconic Chevys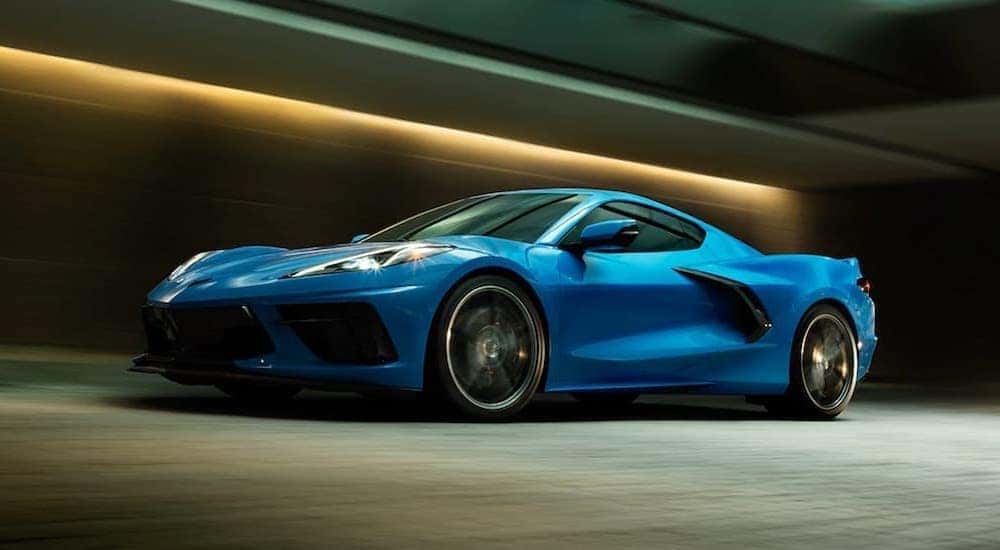 Few automakers are as deeply ingrained in the fabric of America as Chevrolet. This is why Chevy has been immortalized in so many songs. Elton John had an old gold Chevy when he was doing the "Crocodile Rock." Bob Seger was making "Night Moves" in the back seat of his '60 Chevy. Sammy Johns drove a Chevy Van to the top of the charts in 1973, while Snoop Dogg went "Ridin' in My Chevy." And of course, Don McLean said "Bye Bye Miss American Pie" when driving his Chevy to the levy. You can see why this is the case by visiting your Scottsboro Chevy Dealer. At Guntersville Chevrolet, we offer the full lineup of Chevy cars, trucks, and SUVs. With our huge inventory of new, used, and certified pre-owned Chevys, you will have no problem finding your own model to inspire your own favorite songs.
Chevy has earned its place in the history of the American automotive industry by producing some of the most iconic models in the history of the automobile. Here are five of the most popular, longest-running models in vehicle history. Each one has carved out its own niche and built a loyal following that continues today.
#1 Chevy Corvette
There may be no sports car more famous than the Chevy Corvette. Named for the class of fast gunboats built and operated by the US Navy in World War II, the Corvette staked out its place from the start in 1953. From removable hardtops and fuel injection to pop-up headlights and aerodynamic styling that incorporated fiberglass composites in the exterior construction, the Corvette has always been on the cutting edge of technological innovation. Many trace the birth of the modern Corvette to 1963, when a complete redesign launched the third generation with a model that came to be known as the Sting Ray. This was eventually shortened to Stingray, but the die had been cast, and there was no going back. This two-seat sports coupe earned the nickname courtesy of its distinct, prominent front-end courtesy of its front-engine design to accommodate its V-8 gas engine.
Chevrolet has kept the Corvette in continuous production for every year except 1983. The Corvette is now in its eighth generation, with the first mid-engine model introduced in 2020. Today's Corvette takes up the gauntlet thrown down by the so-called supercars coming out of Europe and Japan, delivering blistering performance. The current model with the Z51 Performance Package can actually go from 0 to 60 miles per hour in less than three seconds!
#2 Chevy Silverado 1500
Chevrolet has been building trucks for over 100 years now. Actually, it has been 104 years since Chevy introduced its first truck, the 1918 Chevrolet One-Ton. Pretty basic and utilitarian by today's standards, those first Chevy trucks could still help a farmer or merchant get their goods to market courtesy of a 36 horsepower 4-cylinder engine.
The Silverado itself was originally a top trim level offered on Chevy C/K pickup starting in 1975. This trim name was also used on the Chevy Suburban SUV. As a result, the name Silverado became synonymous with high quality. This is why Chevrolet decided to use the name for its new series of trucks introduced in 1999, including the one-ton flagship Silverado 1500. This truck changed the dynamic of the pickup truck world, providing rugged power and utility with cab designs that were comfortable, well-appointed, and full of creature comforts. As a result, many first-time truck buyers started getting Silverados, finding that these workhorses could also double as family transportation.
Today, the Chevy Silverado 1500 is in its fourth generation, introduced for the 2019 model year. This is one of the most versatile trucks, with 9 different trim levels and four different powertrains to choose from. In addition, the Silverado 1500 will be vaulting into the future in 2023 with the launch of the Silverado EV, a fully electric pickup truck.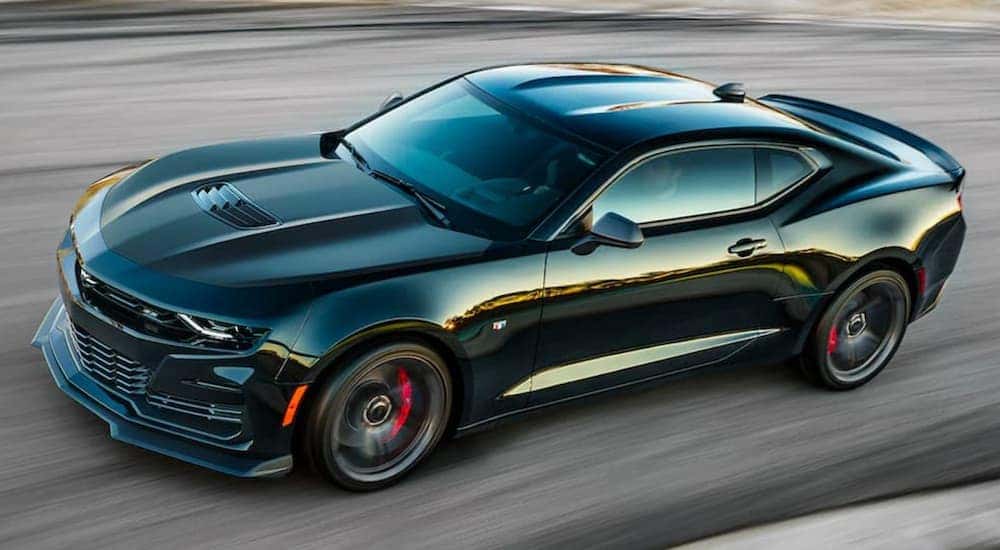 #3 Chevy Camaro
Few things are as American as a muscle car. The designers at Chevrolet recognized this, introducing the Camaro in 1967 as a coupe and convertible with more classic car looks than the Corvette. One key difference is that the Camaro offers drivers a rear seat, allowing you to thrill an extra pair of passengers when you push this fastback to the limit.
Initially offered with only a V-8 engine option, the Camaro evolved over the years as engineers were able to get more performance out of smaller engines while also offering drivers better fuel efficiency. This was critical throughout the 70s, as gas prices continued to rise. As a result, you will find older Camaros on the used car market with V6 and even 4-cylinder gas engines.
Chevy took an 8 year break with the Camaro following the 2002 model year. However, the Camaro was back better than ever in 2010 with its fifth generation model, with the sixth generation following in 2016. This version offers drivers more choices than ever before. There are currently 8 different models to choose from, with five different engines and three different transmissions. Best of all, the 2022 Camaro has a very affordable base MSRP of $25,000, making it an aspirational muscle car that can fit anyone's budget!
#4 Chevy Suburban
Over the past two decades, the SUV has moved into position atop the list of vehicles designed for family drivers. Before that time, the SUV was mainly the vehicle of choice for people who loved off-roading and outdoor sports. That is why you could be forgiven for thinking the Chevy Suburban is just another in a recent group of models hitting the market in the last 20 years. With a name like Suburban, it sounds like it was built for the family driver. However, the Suburban has been around since 1935, when Chevrolet first built an 8-passenger truck-based wagon. Here we are 87 years later, and Chevy is still making the Suburban!
Now in its twelfth generation, the Suburban is bigger and better than ever. Featuring three different engines including a Duramax Turbo Diesel, the 2022 Chevy Suburban gives you the ability to seat up to 8 passengers just like that first 1935 model, but with 41.5 cubic feet of cargo space in the trunk. On top of that, the 2022 Suburban can be configured to carry up to 144.7 cubic feet of cargo by just folding the rear two rows of seats. In addition, the Suburban is so powerful, it can tow up to 8,300 pounds. Also, those first Suburban models didn't feature a Chevy Infotainment system on a 10.2-inch touchscreen.
#5 Chevy Malibu
Evoking images of the beautiful California coast, the Chevy Malibu has been delivering on the promise of a classy, sporty midsize sedan since it was first introduced as the top trim level on the Chevelle back in 1964. Those early Chevy Chevelle Malibus offered a rear-wheel drive sedan, convertible, or coupe with a powerful V-8 gas engine, giving this model muscle car performance and style that could lend itself to suburban family car purposes as well. This is why so many NASCAR drivers chose the Chevelle Malibu as their car of choice. Building on the popularity of the model, Chevy launched the Malibu as its own line of sedans in 1978. However, these were not as popular as the Chevelle Malibu models, and the car was discontinued in 1983.
Fortunately, that wasn't the end of the Malibu. In 1997, Chevy returned to the beach, bringing the Malibu back as a front-wheel drive sedan with solid fuel economy, sporty modern styling, and a surprisingly peppy four-cylinder gas engine. The new fifth generation Malibu proved so popular, it was named Motor Trend Car of the Year for 1997.
The 2022 Chevy Malibu is the ninth generation of this sedan, and it is still holding its own against many other midsize models in the intense competition for commuters and family car drivers. The Malibu offers a choice of two powertrains and four different trim levels, as well as a set of standard safety features. Even though it may be named for a place in the Sunshine State, the Malibu is at home wherever you may roam.
Chevy's Iconic Legacy of Vehicles
These are just five models that have inspired some great artists to write some of their best songs. When you get behind the wheel of a Chevy, no matter the model, you will be able to compose your own personal hit song on the road you choose.