A Definitive Guide to Chevy Truck Engines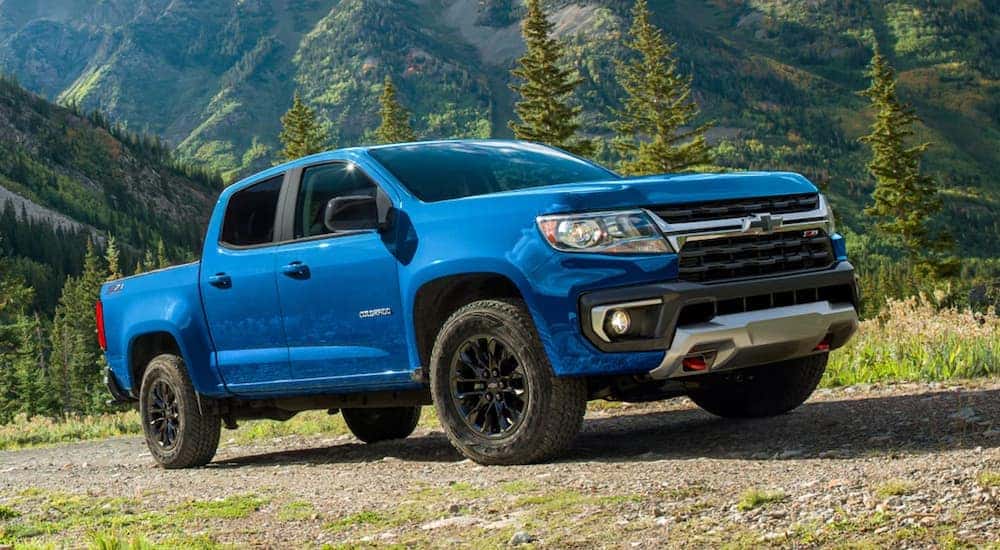 Chevy trucks are among the most reliable on the road today. When it comes to the men and women who keep America's infrastructure and industry going strong, Chevy is the brand that more of them trust. And if Chevy trucks can carry heavy workloads such as those, day in and day out, without any sign of slowing down, imagine what they might be able to do for you. If you've ever passed by an Albertville Chevy dealer and seen all the various models of trucks out on the lot for sale, you might have thought about what types of engines keep these vehicles running so efficiently and high in demand. Today, we're going to examine the inner workings of the fleet that make up the Chevy lineup. We'll probe what makes each engine unique and ideal for the jobs it continuously takes care of. These vehicles carry the legacy and lineage that was started over a century ago, so you know they're reliable.
Ecotec 2.5L Inline 4-Cylinder
We're starting with one of GM's smaller-sized offerings that packs a sizable punch. Earning its stripes since its debut in 2013, this inline 4-cylinder began its career in 2013, serving two vehicles, the Cadillac ATS and the Chevy Malibu. As a sign of the engine's versatility, it's still used today and an essential part of the Chevy Colorado. Usually paired up with a six-speed automatic transmission, it possesses the capability to generate 200 horsepower and 181 lb.-ft of torque. Aside from the Colorado, it can also be found in the Chevy Blazer and GMC Canyon.
Duramax 2.8L Inline-4 Turbo Diesel
One of the hallmarks of GM in the past several years has been the implementation of Duramax. This line of hardworking diesel engines has left an indelible mark on the industry as we know it and have made many rethink what diesel can do for them. An engine exclusively used by the Chevy Colorado and its sibling, the GMC Canyon, this Duramax possesses all of the qualities of its larger comrades in arms, most notably, allowing the Colorado to tow 7,700 lbs. Producing 181 horsepower and 369 lb.-ft of torque, it produces both of these while operating at low RPMs (3400 & 2000).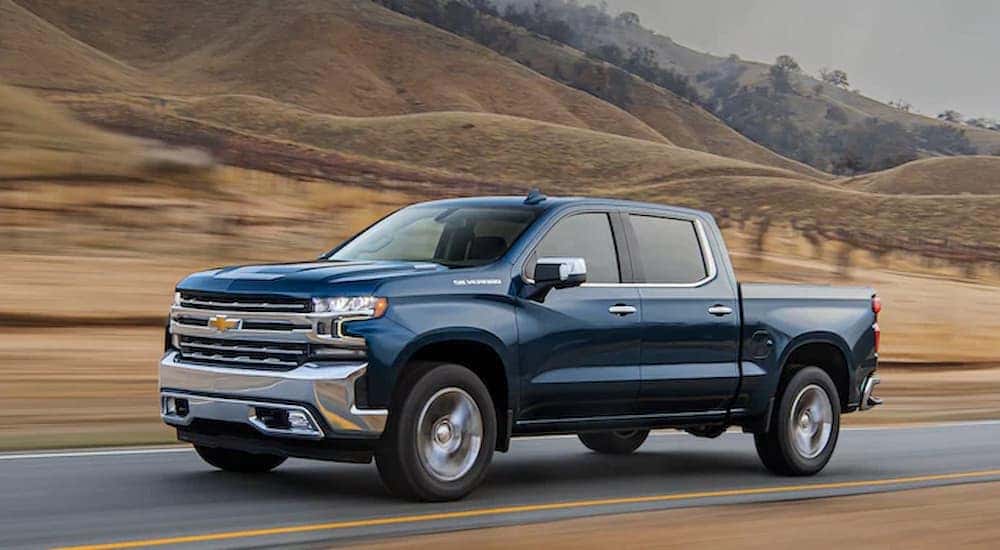 GM 2.7L Turbo Inline 4
While still a relative newcomer to the truck engine game, this inline 4-cylinder first made its appearance as recently as 2019. Currently in use with the Chevy Silverado 1500, GMC Sierra 1500, and Cadillac CT-4, this marked the first time that GM adapted active fuel management to a 4-cylinder engine. While some assume that four cylinders are low on the spectrum of power, this little engine that could proves any skeptic wrong. With the ability to generate 310 horsepower and 348 lb.-ft of torque, this engine is used in conjunction with an 8-speed automatic transmission for maximum performance. A 9,500 lb. towing capacity is the proverbial cherry on top.
GM 3.6L V-6
Making its debut in 2017 for both the Chevy Colorado and GMC Canyon, it's the only gasoline-powered V-6 engine we'll be looking at today, as the others are Duramax motors powered by diesel. Dependable and hardworking, GM's gasoline-powered engine allows the Colorado to tow 7,000 lbs. and carry a payload of 1,569 lbs. While GM has spent less time on gasoline-powered V-6 engines in recent years, this one still boasts effectiveness. A horsepower rating of 308 and the capability to generate 275 lb.-ft of torque are still impressive.
Duramax 3.0L Turbo-Diesel Inline 6
Affectionately known to its fans as the "baby Duramax," it's best described as the bowl of porridge that Goldilocks thought was "just right." One of the most versatile engines in GM's current arsenal, the diesel-powered dynamo equips the Chevy Silverado 1500, Tahoe, Suburban, GMC Sierra 1500, Yukon, and the Cadillac Escalade. No matter what the application might be, a 10-speed Allison automatic transmission comes with maximum efficiency. While the capability to generate 277 horsepower and 460 lb.-ft of torque is impressive, its biggest attribute is the towing capacity of 13,300 lbs. that still causes quite a few jaws to drop in awe.
GM 5.3L V-8
For those of you who love reading about performance and engines that are large and in charge, you'll love everything from here on as we're now focusing our attention on the V-8s that power Chevy's truck fleet. Like many of the other engines we've featured today, GM utilizes this motor for several of its subsidiaries. As part of the Chevy Silverado since the 2019 model year, it's proved its efficiency and power as a formidable workhorse. Paired with either an 8-speed or 10-speed automatic transmission, it allows the Silverado 1500 to have a maximum towing capacity of 11,200 lbs. Aside from this impressive feat, it can generate 355 horsepower and 383 lb.-ft of torque.
Ecotec 6.2L V-8
Like its little brother, this V-8 made its first appearance for the 2019 model year. Receiving recognition from both consumers and Wards, who named it one of the 10 best engines of 2019, this workhorse of an engine is the heavy-hitter who knows how to take care of business. 420 horsepower and 460 lb.-ft of torque is just as effective at work as it is at play, as the motor comes standard on the Silverado 1500's ZR2 off-road package. A monstrous towing capacity of 13,300 lbs. isn't just impressive; it's essential for those who must do the big jobs.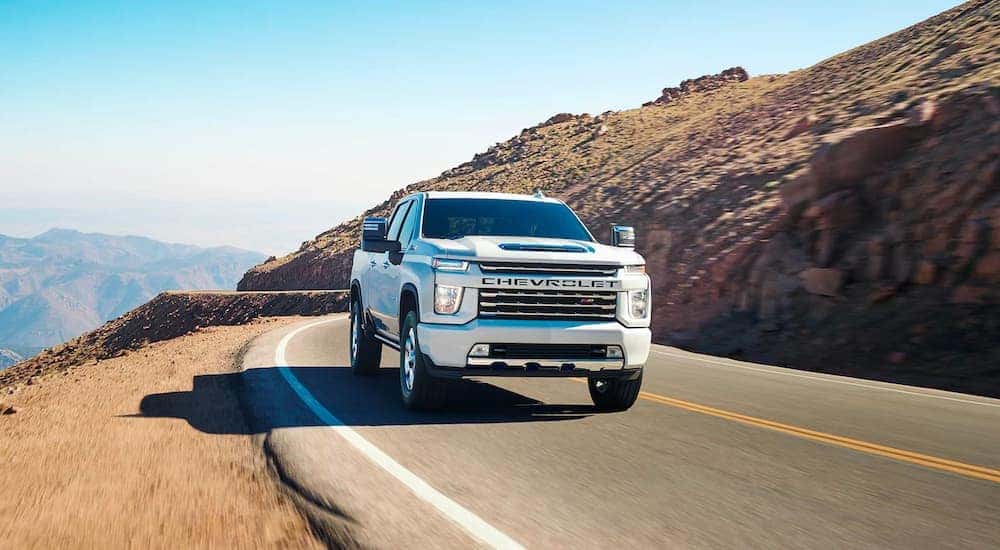 GM 6.6L V-8
While we're still in the realms of the V-8, we leave the ordinary behind and enter the world of heavy-duty. Heavy-duty trucks that is. While this is the last gasoline-powered engine we'll be looking at, its importance cannot be understated as part of the Chevy Silverado 2500 & 3500. Usually equipped with a six-speed automatic transmission, this workhorse boasts an impressive 401 horsepower and 464 lb.-ft of torque. The greatest attribute of this engine is its high towing capacity. When properly equipped, this engine allows the Silverado 2500 to tow 14,500 lbs. and carry a payload of 3,979 lbs. The Silverado 3500 extends this capability with a maximum capacity of 17,370 lbs. But wait, we've saved the most impressive for last…
Duramax 6.6L Turbo Diesel V-8
The Duramax diesel engines on this list have all been impressive and displayed capabilities that exceed far beyond normal expectations. For the heavy-duty Chevy trucks that rely on Duramax engines to get work done, it's no wonder why the blue-collar workers of America continually choose diesel. The papa Duramax already generates an astounding 445 horsepower and 910 lb.-ft of torque and is equipped with a 10-speed automatic transmission. However, the towing capacity it assists in is what takes the cake, allowing the Silverado 2500HD to tow 18,500 lbs. and the Silverado 3500HD to tow 36,500 lbs. These are specs that turn any heavy workload into a pile of minced meat.
The Road Belongs to You
We hope you've enjoyed this look at the world of Chevy truck engines. Through determination, horsepower, torque, and lots of towing, it's easy to see why Chevy is the brand that Americans trust most to get their work done. Whether it's four cylinders or eight, Chevy is there to ensure that the road ahead belongs to you.