8 Great Used SUVs That Are Ready for Adventure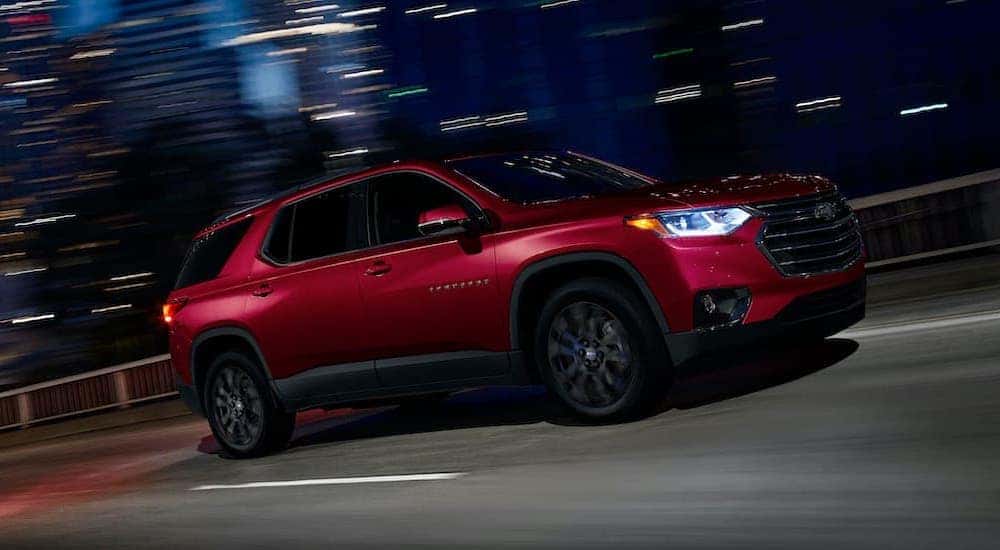 Some people can be content using their cars to drive back and forth to the office and run errands around town, but some drivers are eager to explore. If you want to unlock life's greatest adventures, you're going to need the right vehicle. Luckily, there are plenty of capable SUVs out there that can get you where you need to go.
Stick to reliable models that are built to last, and you can confidently browse used SUVs for sale, assured that your new-to-you vehicle will serve you well for years to come. If you're not sure where to start in your search, then you've come to the right place. We've rounded up eight SUVs that are ready to take you on your next great adventure. Whether you're looking for something that can handle long road trips, extreme weather, and country backroads or need a rough and ready vehicle that can go fully off-road, something on this list is sure to be up your alley.
#1. Toyota 4Runner
If you need a vehicle that can take you just about anywhere, with plenty of room to bring passengers and cargo along for the ride, then the Toyota 4Runner is worth considering. Built with a truck-like body-on-frame construction, this SUV has some serious off-road capability. It's available with either two or three rows of seating, and the spacious cabin has plenty of large, deep cubbies that can store all of your camping gear and supplies.
#2. Jeep Wrangler
Jeep can trace its roots back to World War II, so you know it has a long history of making tough vehicles that are ready for action. The iconic Wrangler is about as outdoorsy as a vehicle can get. It doesn't offer the most refined ride on paved roads, but it has come standard with all-wheel drive for many years and can handle even the rockiest of trails. You can also feel closer to nature by getting a more open-air experience: the roof and doors of the Wrangler are removable, and the windshield can be folded flat.
#3. Chevrolet Traverse
The Chevy Traverse isn't going to take you off-road, but if your idea of adventure is a family road trip, then this three-row SUV has plenty to offer. For one thing, it's got plenty of space. Even the third row can comfortably seat full-grown adults, or if you don't have many passengers, you can fold the seats down and haul all the cargo you need.
Even the 2013 Traverse has standard features like a touchscreen display, a rearview camera, and keyless entry across all trim levels. However, if you're looking for a more modern look and feel, you should stick to the 2018 model year and newer. The 2018 Traverse got a new design that gave the exterior a bolder appearance, with sharp angles and a larger grille. For models from 2018 and beyond, the standard tech includes Bluetooth connectivity, Apple CarPlay and Android Auto compatibility, and an onboard Wi-Fi hotspot.
#4. Lexus GX
Just because you have a taste for exploring the great outdoors doesn't mean you can't also enjoy the finer things in life. The Lexus GX is a proper luxury vehicle that also offers all-terrain capability. Go as far back as the 2017 model year, and you'll find standard features like a 301-hp V8 engine, four-wheel drive, and a limited-slip differential with electronic locking that can come in handy in situations where one wheel is slipping, either due to ice, mud, or uneven terrain. Inside, the cabin is classy and comfortable. If you opt for a higher-level trim, you can get more premium materials and features like tri-zone climate control, heated seats, and a heated steering wheel.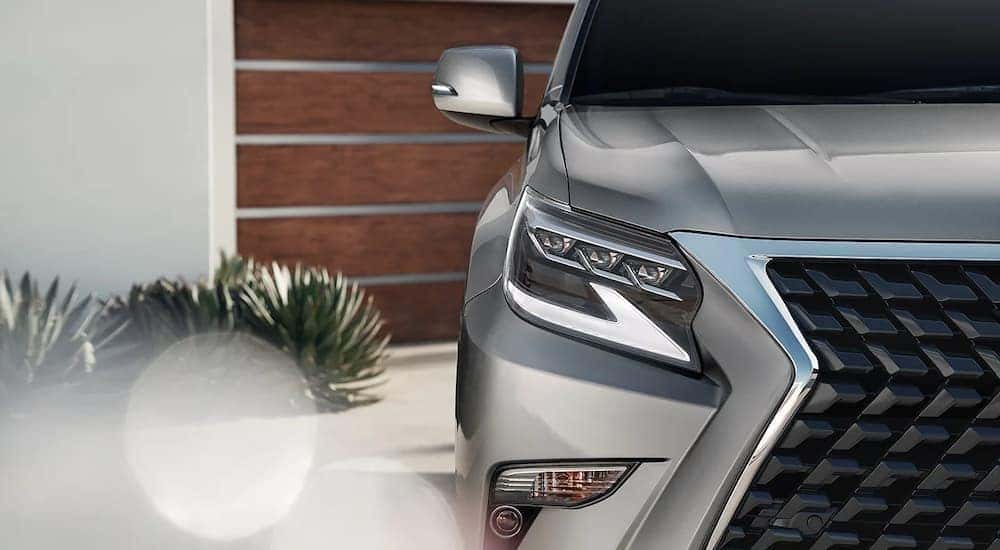 #5. Toyota Highlander
Adding electric power to larger vehicles is all the rage these days. While you might think you need to stick to newer models to get an SUV with a hybrid powertrain, that's not the case with the Toyota Highlander, which has had a hybrid option for well over a decade now. This is great news for those who need to be able to travel with plenty of passengers and cargo but are also looking for fuel efficiency. While newer models are still more fuel efficient and have updated tech and safety features, you can opt for an older Highlander hybrid without having to worry about excess pain at the pump.
With three rows of seating, the Highlander has plenty of space for people and cargo. It's also a reliable vehicle that's sure to serve you well for quite some time. The exterior has long had a flair for style, but if you want a more sleek and modern look, stick to 2020 models or newer. The 2020 Highlander got a full makeover inside and out, adding a touch of class while maintaining the vehicle's utility.
#6. Ford Explorer
A well-rounded option that offers a comfortable ride, good storage capacity, and capable powertrains, the Ford Explorer is a three-row crossover that should meet the needs of adventurous families. While it isn't an off-road capable model, it does offer a more composed ride on the highway so you can drive with confidence and keep all of your passengers comfortable. For every model year since 2013, the Explorer has received a five-star overall safety rating from NHTSA, so even with an older model, you can expect a safe and durable vehicle. Of course, you'll have to stick to newer models if you're looking for driver-assistance tech. Features like forward-collision warning and lane-keeping assist only became standard features for the 2020 Explorer, so if you're looking at a model from 2019 or earlier, you'll want to check the details if that's a priority for you.
#7. Toyota Sequoia
Reliable and ready for anything, the Toyota Sequoia is based on the platform of the Tundra, so you'll get all the power and capability of a full-size off-road capable pickup, but with extra interior space instead of an open bed. Even with all three rows of seating filled with passengers, you'll still have plenty of room for luggage and gear in the rear cargo area. The Sequoia's update for the 2018 model year made many modern must-haves standard features, so if you're looking for LED headlights with automatic high beams, adaptive cruise control, and lane-departure alerts, we would stick to 2018 models and newer.
While all trim levels on models from 2018 to 2022 will give you a reliable vehicle that comes standard with a powerful V8 engine, you'll want to stick to TRD Sequoias if you're looking to go off-road. The TRD Sport trim debuted for the 2018 model year, coming standard with anti-roll bars, dampers, and other rugged features. The TRD Pro trim was added in 2020, featuring a front skid plate, running boards, and a lifted suspension.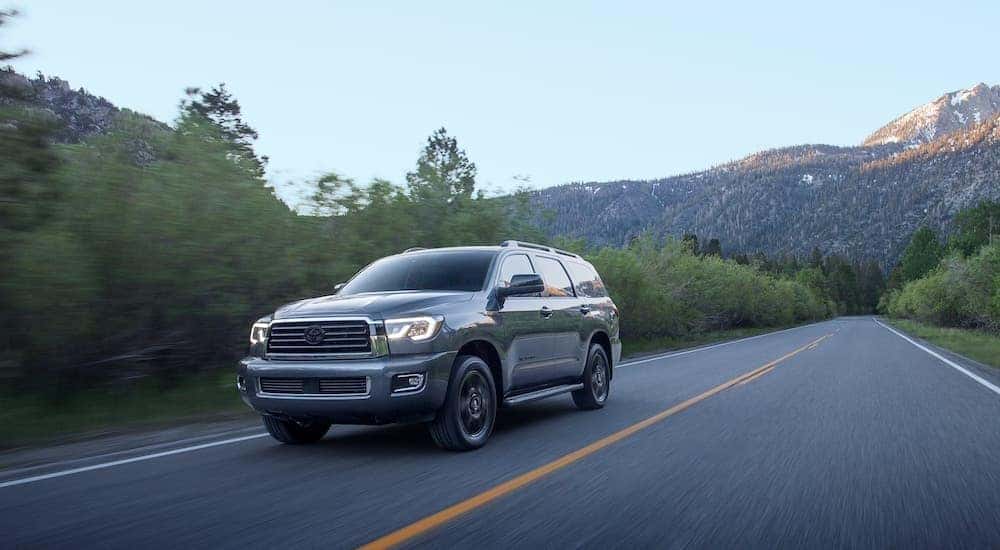 #8. Chevrolet Blazer
The latest incarnation of Chevy's Blazer nameplate debuted for the 2019 model year, so even the oldest models on our lot come with a great infotainment setup and a comprehensive suite of driver-assistance features. Opt for a model with all-wheel drive, and you'll not only be ready to handle winter weather but also have the ability to tow up to 4,500 lbs. The Blazer isn't built for crawling over rocky mountains, but it makes up for that with a sporty feel on paved roads. There are all kinds of ways to have an adventure, and with this crossover's enhanced handling, getting there really is half the fun.
Get the Perfect SUV to Start Your Next Adventure
No matter what kind of adventure is calling your name, we can help you find the right ride for your next journey here at Guntersville Chevrolet. We may have "Chevrolet" in our name, but our used car department has a wide range of makes and models available. Whether this list has helped you make up your mind or you still have some questions about what model is right for you, give us a call or drop by, and we'll be happy to help get you behind the wheel of your dream adventure SUV.