5 Chevys Perfect for Arab, AL
Residents of Arab, AL, know they can count on an all-American brand like Chevy to get them around town during the day, whether it's up to Huntsville to go shopping or out to the Tennessee River to enjoy the weekend. But which Chevy is right for you? The team here at Guntersville Chevrolet has the answers you need. We are your top Arab Chevrolet dealership because we know the area and can help you find the perfect Chevy for your needs. We have something for every type of driver, from commuters to families and everyone in between. If you are getting ready to visit us to look for a new or used Chevy, here are five of the top models for Arab drivers.
#1 – Chevy Equinox
The Chevy Equinox has been a top seller for years because of its affordable price and reliable performance. This compact SUV can handle just about anything. It makes a fine commuter car, can comfortably fit a small family, has the ground clearance to take on dirt roads, and can even tow a small trailer with ease. The 2022 Chevy Equinox comes with a standard turbocharged engine for a good mix of power and efficiency and uses a reliable six-speed automatic transmission instead of a CVT. Inside the cabin, you will find a standard 7-inch touchscreen infotainment center with Apple CarPlay and Android Auto, giving you lots of technology at a low price. The 2022 Equinox also has 63.9 cu.ft. of cargo space, allowing you to move furniture, take a trip to the hardware store, or pack for a family vacation without running out of room.
You can also find used Equinox models here at Guntersville Chevrolet. If you are looking for a deal on an SUV, these are a great place to start since the Equinox has been around since 2005. The first two generations of the Equinox were a bit larger than the current model and offered an available V6 engine for extra power. The latest generation launched in 2018, bringing more technology and better fuel economy. If you are shopping for a used third-generation model, you also have the option of a 2.0L turbocharged engine with 252 hp or a 1.6L turbo-diesel rated for 32 MPG combined.
#2 – Chevy Silverado
The Chevy Silverado is one of the best trucks in America and makes a great buy, used or new. The 2022 Silverado was fully redesigned with a high-tech interior, but even an older used Silverado will provide reliable performance for years to come. If you need a powerful truck with plenty of room in the bed and high tow ratings, then the Silverado is the Chevy for you. With up to 13,300 lbs of towing capacity and a best-in-class 89.1 cu.ft. of bed space, the 2022 Silverado is built for the job site. Inside, the redesigned model has an available 13.4-inch touchscreen with Chevy's new Google Built-In software for smartphone-like functionality even if you don't have your phone with you.
A variety of engine options are available, including the 5.3L V8 and 6.2L V8. These two V8 engines have been available in the Silverado since 2014, so they can be found in many of our used Chevy trucks. The 5.3L provides 355 hp, while the 6.2L offers 420 hp. There is also the newer 3.0L Duramax diesel engine, which was introduced in 2020 and brings proven Duramax power and efficiency to a half-ton truck. If you are looking to head off-road in your new truck, then let us show you the special features of the Silverado Trail Boss trims, such as the standard Z71 Off-Road Package, Autotrac two-speed transfer case, and Goodyear Wrangler mud-terrain tires. No matter the job, there is a Silverado that can handle it.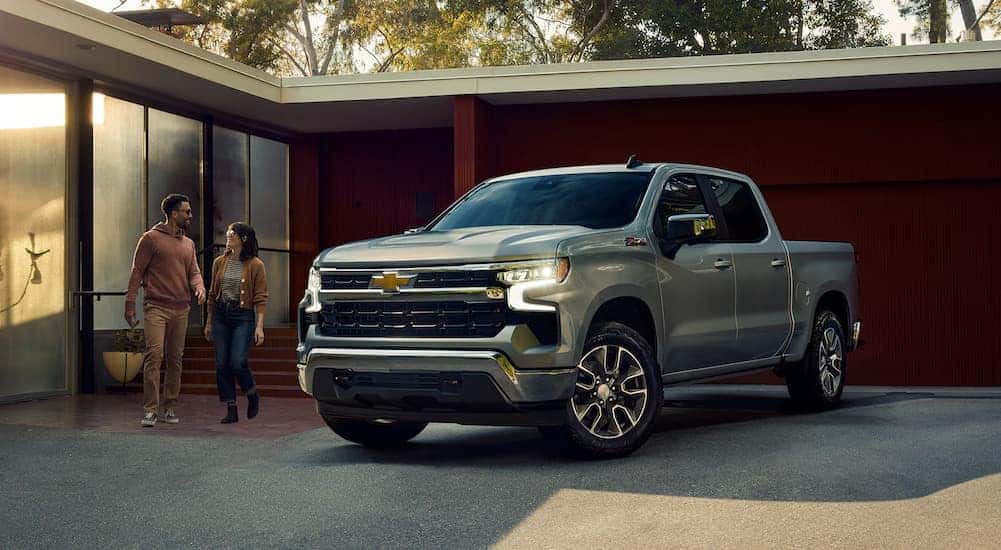 #3 – Chevy Traverse
Families need the space a three-row SUV offers, and there is no better choice than the Chevy Traverse. While it's smaller than the Tahoe, the Traverse can still comfortably fit up to eight passengers and has 98.2 cu.ft. of cargo space. Its smaller size also means the Traverse is more affordable, burns less gas, and is easier to drive. The 2022 Traverse comes standard with Chevy Safety Assist, a collection of active safety features designed to prevent accidents. These include Automatic Emergency Braking, Lane Keep Assist, IntelliBeam auto high beam assist, and more, making your time on the road less stressful and more secure.
The current generation of the Traverse arrived in 2018, so you can shop from our used models and still find modern styling and features. Looking for an even better deal? Check out a first-generation Traverse from 2009 to 2017. While the older models might not have the same technology features, they are powered by a reliable V6 engine and have plenty of space for all your family members to travel comfortably. Whether you are taking the kids to school in the morning or heading to an Arab Knights football game, a new or used Traverse is the perfect family vehicle.
#4 – Chevy Trailblazer
SUVs are more popular than ever these days, and one of the most affordable SUVs around can be found here at Guntersville Chevrolet. The Chevy Trailblazer started at just $19,000 when it launched in 2021 and remains a low-priced way to get a brand-new SUV. Although it may not be as big as the Equinox or Traverse, the Trailblazer offers good ground clearance and has available all-wheel drive to handle dirt roads and bad weather conditions. If you spend most of your time commuting around Arab, the 2022 Trailblazer has your back with its extraordinary 31 MPG combined fuel economy. This excellent efficiency is thanks to the model's 1.3L turbocharged engine.
While the Trailblazer sips fuel, that doesn't mean it isn't capable. With up to 155 hp and 1,000 lbs of towing capacity, you might surprise your friends with what this little SUV can do. The Trailblazer ACTIV is even available as an off-road-inspired model. It may not be able to go everywhere a Silverado Trailboss can, but the Trailblazer ACTIV comes with functional skid plates, sport terrain tires, and off-road suspension tuning to make your next adventure more fun. Used Trailblazers aren't yet common here in northern Alabama, but with the low price of a new model, this is still an SUV that nearly anyone can afford.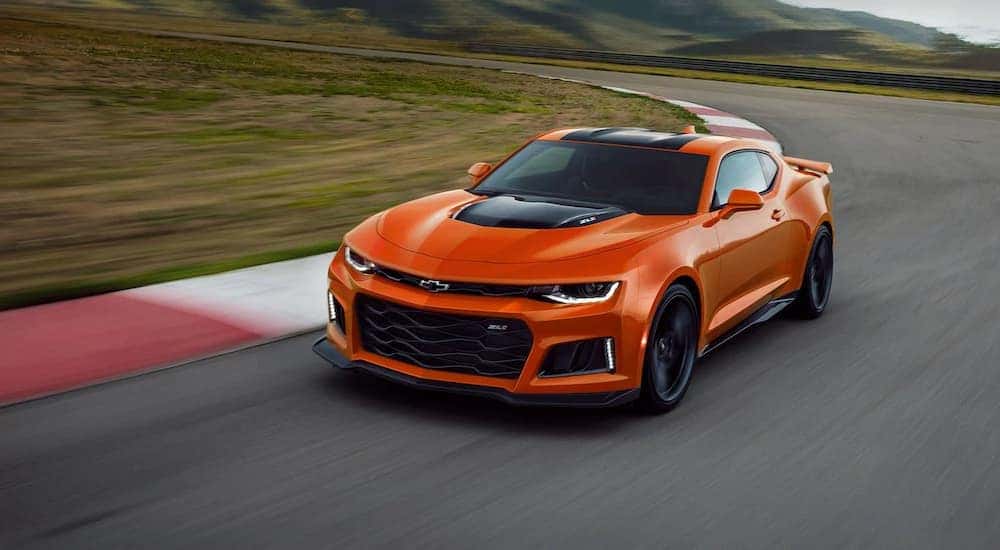 #5 – Chevy Camaro
Trucks and SUVs may be the most practical vehicles you can buy, but sometimes you simply want something fun. In that case, Arab drivers should check out the Chevy Camaro. While you may think a muscle car is out of reach, the amazingly low prices of the Camaro will make you reconsider. Brand-new, a Camaro can run well under $30,000, and our used models are even more affordable. The variety of available engine options also lets you dial in your ideal level of performance and efficiency, and you can choose between an automatic or a manual transmission in this rear-wheel drive muscle car.
The 2022 Camaro comes standard with a 2.0L turbocharged engine that produces 275 hp and gets a surprising 25 MPG combined. A 3.6L V6 with 355 hp is also available as an affordable choice with a bit more power. However, nothing beats a V8 when it comes to American muscle, and the Camaro fits the bill with its available 6.2L V8. With 455 hp and 455 lb-ft of torque, this engine will have you thinking about paying a visit to the Baileytown Good Time Drag Strip to test out its full capabilities. But no matter which engine you choose for your Camaro, you will enjoy driving the streets of Arab in a real muscle car.