2021 Chevrolet Tahoe Rear Entertainment System
"Are we there yet?"  …you won't have to worry about hearing this popular road trip phrase anymore!
That is, as long as you're driving the all new 2021 Chevy Tahoe or Suburban with the groundbreaking Rear Seat Media package.  Your passengers will be so entertained that the family road trip will finally become the serene escape it was meant to be.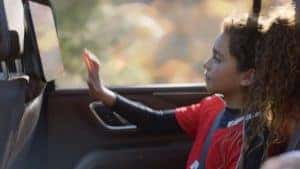 All new for 2021, the Chevrolet Tahoe and Suburban have revolutionized the full-size SUV category in so many critical ways. They are industry leaders in rear cargo space, passenger space & comfort, ride-quality, and technology. It this article, we're focusing on what is one of the most important features of these full size SUVs, the rear entertainment system!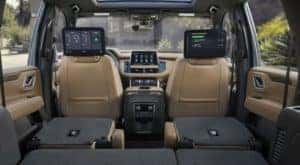 For 2021 Chevrolet has totally redesigned the Tahoe and Suburban. The interior is luxurious and full of new tech. And what's more exciting than all new technology, especially tech that enhances your life like the all new Rear Media Package. This system consists of 2 independent 12.6″ media screens that are mounted to the back of the driver and front passenger seats. The system also comes with newly designed headphones that stream digital audio and have a nice Chevy bowtie emblem on each side. The positioning of these screens allows the 3rd row passengers to have a clear line of site to either the right or left mounted display. The high tech system is very intuitive and easy to use because it operates like a tablet. The on-screen menu is split between three categories, Watch, Listen, and Navigate.
Let's go deeper into these categories and explore some really neat features of the system.
Watch
The watch option for the rear entertainment system in the 2021 Chevy Tahoe allows you to choose between device sources to in order to stream your media.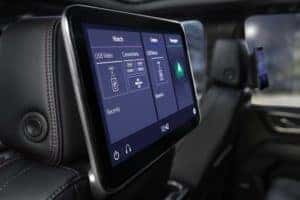 The input options are USB Video, HDMI 1, HDMI 2, and MiraCast
The 2nd row has 2 USB-C ports, 2 HDMI ports, and a power outlet that will enable you to connect and power a multitude of devices such as the Amazon Fire Stick, Apple TV, Roku, Xbox, PlayStation, smart phones, tablets, laptops, and more! Standard USB ports are on their way out and in the pic below you'll see that there are only USB-C ports for the rear. If you still only have the old USB cord, you can get new USB-C versions for your device or even a simple conversion cable. They are very inexpensive and readily available. By using the onboard 4G LTE WiFi connection will enable you to steam content through these devices that don't have their own data plan. WiFi data packages are available for purchase for your Tahoe and come at a very reasonable price.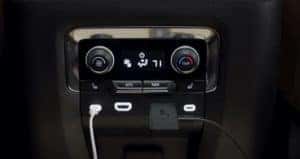 Listen
The listen option is pretty straight forward. Choose this to access and control the music on your connected USB device. Shown on the screen will be the most recently listed to audio file or a list of your downloaded audio files to choose from. No need to force your kids to listen to your Yacht Rock Radio station anymore.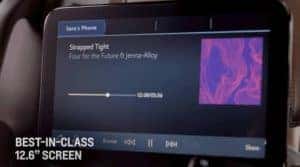 Navigate
Does the 2021 Chevy Tahoe really have rear seat navigation? Yes it does. By selecting "Navigate", the screen will display your current location on the map. Remember, the screen operates like a tablet so the gestures are very intuitive such as Pinch and Zoom with your fingers.
A very cool feature is that the rear passengers can search the navigation system for nearby locations and send the waypoint suggestion to the 10 inch navigation screen in the front row! Some may see this as a back seat driver's dream come true but this feature will truly come in handy during a road trip. The rear passengers can search for restaurants, entertainment venues, coffee shops, and everything else you can imagine and send it right up front using their rear media screens.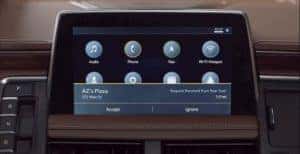 Simply click "Accept" and the new destination or waypoint is loaded onto the map screen and then hit "Go" and the navigation route is started or added in to your route already in progress. This will eliminate the temptation to pick up your phone while driving and Google a destination yourself. Very cool and a much safer way to do things!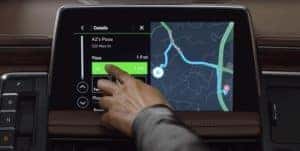 Can you watch two different things on the rear entertainment system of the 2021 Chevy Tahoe?
Yes! The 12.6 inch media screens can operate independently. One screen can be streaming a movie while the other can display the navigation or any available connected media. This is a total game changer for vehicle rear entertainment systems.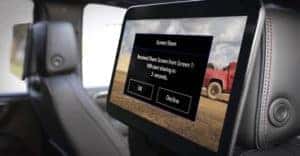 Swipe to Share! Check out the photo above. You can even Swipe to Share to the neighboring screen! Your passengers will LOVE this! Your passengers can stay engaged and share their favorite movies, videos, and other media with one another. Your next 2021 Chevy Suburban delivers the goods!
Are there any Parental Controls on the 2021 Chevy Tahoe rear entertainment system?
Yes! The front 10″ touch screen on the dash can provide the driver a glimpse of what media is showing on the rear screens! You can see how this cool feature will clear up any worrying should you hear curious giggles coming from the back rows. You can even mute the audio, lock out the screens, control the screen sharing, and power the 12.6 inch screens down right from the front seat.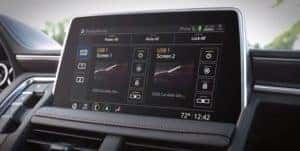 There are so many great features in the 2021 Chevrolet Tahoe & Suburban rear entertainment systems. Each passenger of the vehicle has access to technology that makes the road trips a total first class experience and Chevrolet has reinvented and delivered class-leading full-size SUVs once again to the world.
Check out the Tahoes & Suburbans currently in stock at Guntersville Chevrolet today!